Browse By Category
Special Offers
Colours
Prices
Genders
Materials / Feel
Features
Wartenberg Pinwheel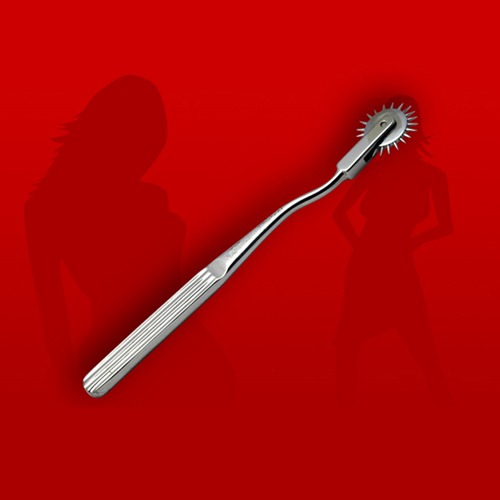 Recommended with this product
Description - Wartenberg Pinwheel
Our Wartenberg Pinwheel is the ultimate for pleasurable pain. Run the pinwheel over your partners body for a unique experience. Made of stainless steel and includes 20 fine spikes for maximum sensations. Absolutely perfect for medical fetish or bondage play!
Product specifications
| | |
| --- | --- |
| Ideal for | Medical Fetish and Bondage |
| Colour | Silver |
| Material | Steel |
| Total Length | 7" |
| Flexible Sex Toy? | No, Rigid |
| Waterproof Sex Toy? | Yes |
Full description - Wartenberg Pinwheel
We have tested quite a few of these and this is the best Wartenberg pinwheel available. For those of you in the know … measured pain can be pleasure! Run the pinwheel over your partners genitals, legs, arms or back for an out of this world experience. Treat yourself to this superior quality and original Wartenberg pinwheel which is made of stainless steel while the wheel has 20 fine prickly spikes. To protect your favourite toy and your fingers we will supply the Wartenberg Pinwheel to you in a plastic pouch. A true classic and favourite for all medical fetish players and bondage lovers. Alternative Spelling: Wartenburg Pin wheel
Customer reviews for Wartenberg Pinwheel
Wartenberg Pinwheel
I bought this pinwheel to go with our light bondage. The tines have a nice sting and the pain is very arousing. My partner runs this pinwheel over my arms, legs, belly, breasts, and pussy to get me very turned on. I also use it on her. She loves the shivers she gets from it. The price was very good and it's made of stainless steel so it will last forever.
Review by: Tessa
WOW! Such an amazing product!
I have been wanting to try a Pinwheel for a while now and was very pleased when my Master purchased me one. The tiny spikes feel amazing when gently glided across the skin. I espically like it glided across the small of my back and across my nipples, the feeling is truly delightful. Be careful how much pressure you apply as it can break the skin if pressed to hard. This is, for sure, one of my faveorite products. I love it. Haven't a bad word to say about it! 10/10 Super fast delivery (the next day infact!) Great prices, this is now my FAVEORITE site to buy bondage gear from. Me and my Master shall be shopping here again. Many thanks. *Slave Tia*
Review by: Slave Tia
Pinwheel
Good solid pinwheel, can be used on almost every part of the body.
Review by: Toni
Great product
I love this pinwheel, it is perfect for adding a little bit of pain to bedroom games. I am slightly disappointed that it isn't slightly sharper- despite Slave Tia's warning that it can break the skin, I have been unable to achieve this.
Review by:
Submit your review of the

Wartenberg Pinwheel
Reviews should be constructive, around 50 words long, should not contain swearing and must relate to an order (and the products within) placed with the submitted email address.
If these criteria are not met, your review will be rejected.
All reviews are moderated before publishing.
If you have a question regarding a product/order or regarding Customer Service please contact [email protected]