Browse By Category
Special Offers
Colours
Prices
Genders
Materials / Feel
Features
Brand
Ultimate 7-Speed Vibrating Nipple Pumps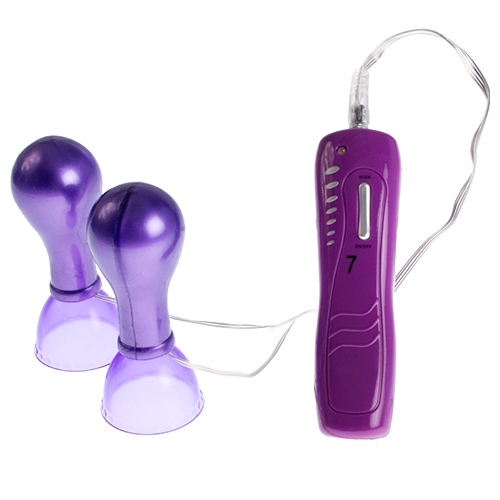 Recommended with this product
Free Batteries
Gift Wrappable
Description - Ultimate 7-Speed Vibrating Nipple Pumps
These vibrating nipple pumps offer a nippliciously erotic treat! The hand squeeze pumps allow for easy attachment of the pumps to the nipples for some amazing sucking action. Then power up the 7-speed escalating and pulsating vibrations for some amazing stimulation. The perfect vibrating nipple pumps!
Product specifications
| | |
| --- | --- |
| Colour | Purple |
| Material | TPR |
| Features | 7-Speed Vibrating, Pulsating and Escalating Stimulation |
| Size | 8cm high / 3.5cm wide (at cup base) |
| Feel | Soft Pumps / Firm Cups |
| Waterproof? | Splashproof |
Full description - Ultimate 7-Speed Vibrating Nipple Pumps
Turn up the heat in your erotic nipple play with these fantastic nipple pumps. They include great hand squeeze pumps for easy attachment to the nipples and powerful vibrations to rock your world! Flick your way through the 7-speed vibration, escalation and pulsation settings for some highly satisfying nipple fun. Suction and stimulation combined - Awesome! Free batteries included.
Customer reviews for Ultimate 7-Speed Vibrating Nipple Pumps
Lovely!!
Fab sensation, recommend you try!
Review by:
Nipple Pumps
I already have a clit pump so getting a vibrating nipple pump was a perfect match. The pump sucks right on my nipples, pulling on them and it feels so good. I love the seven speeds. I vary from a slow speed to start to a high speed right when I'm coming. This nipple pump set makes my nipples even more sensitive than they already are. The price was very good, and the package arrived quickly and in a discreetly marked box. I'm very impressed with this product and I would like to buy more.
Review by: Wendy
yes
New to nipple suckers and couldn't get the damn things to stay on first of all but my clever missus worked out if we put some lube around the edge that it made a better seal. Doesn't do much for me to be honest but her nipples get really erect and red and I love it. She's talking about getting her nipples pierced now- winner!
Review by: Peter
Fantastic!
These nipple pumps were a bargain price and feel amazing!!! Arrived only 2 days after I ordered and all the speeds are really sensitive, can't wait to use them again!
Review by: Louise
Submit your review of the

Ultimate 7-Speed Vibrating Nipple Pumps
Reviews should be constructive, around 50 words long, should not contain swearing and must relate to an order (and the products within) placed with the submitted email address.
If these criteria are not met, your review will be rejected.
All reviews are moderated before publishing.
If you have a question regarding a product/order or regarding Customer Service please contact [email protected]