Browse By Category
Special Offers
Colours
Prices
Insertable Lengths
Genders
Materials / Feel
Features
Brand
Ultimate Sex Massager Ball - Waterproof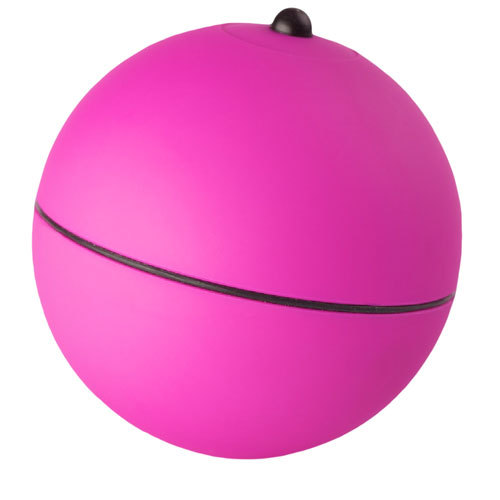 Recommended with this product
Free Batteries
Gift Wrappable
Description - Ultimate Sex Massager Ball - Waterproof
Discover new realms of pleasure. This extremely versatile massage ball with its powerful vibrations and waterproof features means you can make any place exciting. A perfect extra for the bedroom makes teasing and stimulating a ball. Great for external massages, with a partner or solo-play. Imagine the possibilities!
Product specifications
| | |
| --- | --- |
| Ideal Sex Toy For | External Stimulation / Massages - Couples / Solo-Play |
| Colour | Pink |
| Material | Smooth PU / Phthalates and Latex Free |
| Features | Extremely Versatile Massager |
| Vibrations | Powerful |
| Diameter | 2.6 Inches |
| Flexible? | Nice and Firm |
| Waterproof? | Oh Yes, Take Me For A Bath Or Shower. Please ensure the battery cap is securely fastened. |
Full description - Ultimate Sex Massager Ball - Waterproof
It's time you and your partner discover this great massage ball. With its soft touch shell and its powerful vibrations you'll be having so much fun teasing each other. Especially with its waterproof features which means you can take it anywhere. Not only for couples it can lead to some very exciting solo play. Lay back and see what the ball can do. The possibilities are endless with this one you can use it anywhere and for anything.
Customer reviews for Ultimate Sex Massager Ball - Waterproof
Great Vibrating Ball
I love this! It came well packaged (although some other of my bondara items didn't so I washed them all thoroughly before use). The free delivery is great and takes about a week to ROI. It is very pretty and nice looking. The colour is exactly as on screen, which I really like as its not too pink. It uses 3 AAA batteries which Bondara supply (although not the best batteries they are free). I find it easier to use by myself than my other vibrators as the large surface area means that I don't need to be so accurate at critical times. Unlike another review mentioned, there is no need to hold the button down all the time, you just have to press it hard once and it keeps vibrating. The only down side is that it is very loud, but under some blankets and with music playing I don't think my housemates can hear it. I am looking forward to trying this in the bath and with my boyfriend. I bought it on sale so it really was a fantastic buy, but even at full price it is worth it. I highly recommend this product.
Review by: M
Wow
Wow! Received this today and could not wait to get it out the box! Straight into the bedroom to test it! It's very powerful and makes my hands tingle holding it but my god it's worth it when you're holding it on your clit! Made me nearly cum SEVERAL times but managed to stop myself so that I could go on longer. Held it on my nipples which were erect within seconds and really turned me on. I love masturbating when I'm home during the day and this is a very fun little addition to help me on my way. My husband works away so will be very used and can't wait to let him used it on me and I have a feeling he's going to love having this rolled over his cock too. After half an hour of use I was struggling to contain myself (thank god the neighbours work) and was screaming at the top of voice while cumming PLENTY. Love this and left me more aroused than ever!!!
Review by:
bonkers
I don't usually bother with reviews, but I was really hesitant about buying this in the first place and thought other people might like to hear what I thought. Because it doesn't look like the classic cock shaped vibrator or bullet I was a bit unsure how much fun this would be. I shouldn't have worried though because it's probably the most fun sex toy I have. It's brilliant as a massager, works pretty nicely as a clit stim, but really comes into its own when you play with someone else! It's hilarious rolling this around on someone and having it rolled around on you and I've had some pretty powerful orgasms from this baby. Quite quiet too for something this size (which is about the size of a small orange) I love it and I've had so many great nights using it.
Review by: Megan
Something different for your toybox
Upon receiving this - packaged without bag in a cardboard box along with other purchases, some lint had accumulated on it silicon-y surface, so I gave it a thorough wash - I put it aside to concentrate on some more canonical purchases, and it wasnít until later that I had a proper look.

The thing kind of looks like a pink, gummy Death Star. Itís really cute. It comes with a single button, which you press once to turn it on. Press it again to stop the vibrations. It takes three AAA batteries, which it comes with.

This isnít the standard bullet or egg vibrator which works by applying the business end to the relevant parts; though it does come with pretty powerful vibrations, the Ultimate Sex Massager Ball is just that - a massager! That is, donít just press it against your or your partnerís skin. Roll it. Slide it. Push it in and then wobble it around. Grind over it. It will feel fantastic!

It took me a while to figure out what to do with it, but now I enjoy this a lot, though I need more direct vibrations to get to orgasm this is perfect buildup. You can also take it to the shower or bath, because itís completely waterproof, and I intend to do just that very soon.

Keep in mind that it is rather loud, though thatís all the more reason to hit the tub with it, but with the price and versatility Iím glad I was curious about this!
Review by: Marquise
Submit your review of the

Ultimate Sex Massager Ball - Waterproof
Reviews should be constructive, around 50 words long, should not contain swearing and must relate to an order (and the products within) placed with the submitted email address.
If these criteria are not met, your review will be rejected.
All reviews are moderated before publishing.
If you have a question regarding a product/order or regarding Customer Service please contact [email protected]