Browse By Category
Special Offers
Colours
Prices
Brand
Male Leather Body Harness & Cock Rings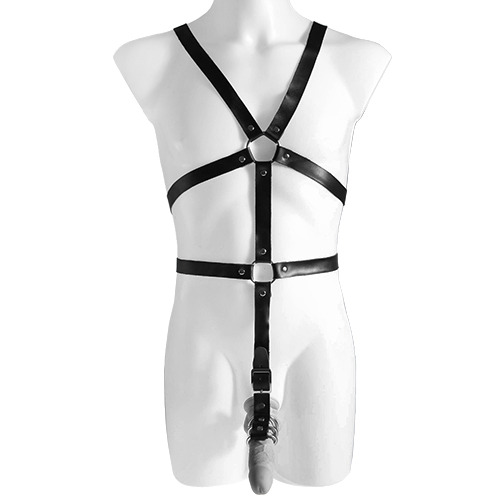 Recommended with this product
Description - Male Leather Body Harness & Cock Rings
A massive hit and huge best-seller - this leather body harness features fully adjustable buckle straps and a triple gates of hell cock ring. An ideal male leather body harness for fetish and bondage fans and to spice things up in the bedroom.
Product specifications
| | |
| --- | --- |
| Chest Size | Fully adjustable, fits up to 46" |
| Waist Size | Fully adjustable, fits up to 38" |
| Material | Leather |
| Colour | Black |
| Fastenings | Buckles |
| Features | Gates Of Hell Steel Cock Rings (Detachable) |
Full description - Male Leather Body Harness & Cock Rings
A very stylish black male leather body harness featuring a triple gates of hell steel cock ring (detachable). This male leather body harness also features several O-rings offering a variety of attachment points if required. The buckle straps on this handmade leather body harness allow for a comfortable and perfect fit every time. Fits up to a 46" chest and 38" waist.
Customer reviews for Male Leather Body Harness & Cock Rings
Excellent Harness
This is a great value harness and ideal for the smaller guy. I was worried it would be too big but it adjusts to fit all and looks and feels great. I can't wait to wear it out in the clubs.
Review by: Roger
Great Product.
Bought this item mainly because of the price. Was a bit worried it may be of a low quality compared to the other similar more expensive harnesses, but when opened I was pleasantly surprised with the product. There is plenty of adjustment for a nice snug fit. I did need to view the website picture just to work out what went where!! But only for the first 'try on'. Definitely recommend this as its fantastic value!! Also as I am quite a slim build, body wise, I think the smaller strap size suits much better.
Review by: Maurice
Body Harness w/Cock Rings
This leather body harness is simple in design and a very good price. It's even made of real leather! I like the simple design and the cock rings are icing on the cake. My master says I look good in it. He has one of his own and we love to wear them together. Wear this body harness with tight leather jeans and we're the talk of the town! It's comfortable and it fits very well. We're both happy with it.
Review by: Michael
Yes!
This sexy leather body harness is one of the best I've ever seen, and the price makes it even better. The straps fit snugly around me, giving me a good fit. The cock ring is comfortable at the base of my cock, making me harder and larger which benefits both me and my wife. I like to wear this leather body harness and cock ring under my business suits at work, and I feel decadant all day long. My conservative business partners have no idea!
Review by: Carlos
Submit your review of the

Male Leather Body Harness & Cock Rings
Reviews should be constructive, around 50 words long, should not contain swearing and must relate to an order (and the products within) placed with the submitted email address.
If these criteria are not met, your review will be rejected.
All reviews are moderated before publishing.
If you have a question regarding a product/order or regarding Customer Service please contact [email protected]