Browse By Category
Special Offers
Colours
Prices
Insertable Lengths
Genders
Materials / Feel
Features
Brand
Hollow Black 7 Inch Strap On Dildo - Male and Female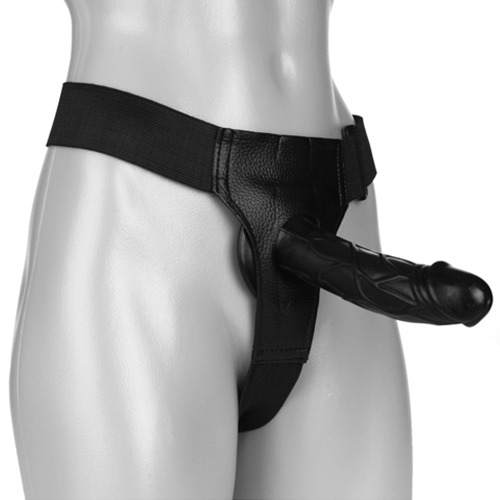 Recommended with this product
Description - Hollow Black 7 Inch Strap On Dildo - Male and Female
• This fabulous hollow strap-on dildo features a superbly formed and veined shaft, delivering fully satisfying stimulation and penetration
• Comes with an adjustable harness for a firm, safe and comfortable fit
• A top-selling strap-on hollow dildo that can be worn and enjoyed by both male and female wearers
Product specifications
| | |
| --- | --- |
| Ideal for | Male and Female |
| Harness Size | Fits up to 46" waist |
| Colour | Black |
| Material | Solid Rubber |
| Insertable | 7" |
| Circumference | 5" |
| Hollow Strap On Insertable | Yes,4.5" |
| Flexible? | Firm and Flexible Hollow Shaft |
| Waterproof? | Yes |
| Free Lubricant Sample? | Yes |
Full description - Hollow Black 7 Inch Strap On Dildo - Male and Female
Strap-on dildo power on a belt - get ready for hot sessions.
This realistic 7" hollow strap-on dildo with its smooth and veined shaft will fill your bedroom life with pure orgasmic pleasure.
The hollow shaft makes this strap on dildo Ideal for both male and female wearers.
A fantastic strap-on dildo which comes complete with dildo, fully adjustable elasticated strap-on harness and a free lubricant sample. A strap on dildo that is guaranteed to satisfy.
Customer reviews for Hollow Black 7 Inch Strap On Dildo - Male and Female
Worked theOH
After a motorcycle accident in 2001 I couldn't perform any more. Recently purchased above due to frustration on both sides now 12 years later my dear wife is happy again. I, due to the nerve damage feel nothing .but happy my dear wife has found joy in what we used to have... thank you.
Review by: ZAK
Hollow Strap On
This hollow black strap on was a great price and it's also completely black, my favorite colour for sex toys. The hollow dildo feels very comfortable and it give me extra inches that she loves so much. I have her wear it so that I may enjoy anal sex. The dildo is firm but flexible where it counts. The whole thing û harness and dildo û is very comfortable for both of us. We're quite happy with this strap on.
Review by: Dave
Strap on
I wanted a hollow strap on so I could go longer with my lover. She is insatiable, and I simply can't keep up with her. This hollow strap on makes her happy, and it feels good for me, too. Younger women can go forever, and sometimes I need a little help. The hollow shaft is very comfortable and long enough to hold me. This hollow strap on is great for anal, too. I don't need to use a condom, and I don't have worry about pregnancy or disease with the strap on. She gets to enjoy anal sex while I get off on watching her get off. The shaft is firm but also flexible so it moves with me. It's made of solid rubber, which is sturdy. This strap on dildo can take a lot of heavy use, and with her it gets heavy use. Neither of us can get enough of it. I had the strap on sent to my office so it wouldn't catch any attention at home. The package was discreet, and the shipping was very fast û only a couple of days. I keep it in my desk in its box so no one knows what I have with me. I'm very happy with this strap on because it makes her happy. The longer she is happy, the more often we have sex, and that's a good thing in my book.
Review by: Don
just amazing
we have just purchased this black hollow strap on for both of us to use, on each other, because i wanted to try anal and I was not disapointed and mainly because i have a very small manhood and have erection problems and my wife still has a huge sex drive. Well the hollow dildo fitted over me like a glove, and now i can go ages to keep her well satisfied, so we are both very happy, It is also quite comfortable to wear.
Review by: kevin b