With season six of Game of Thrones so close, we thought it was the perfect time to relive the sexiest moments of the raunchy show we have all come to be obsessed with.
We all know that Game of Thrones is as much about sex as it is about murder, betrayal, gore and the fight for the Iron Throne. George R. R. Martin has done us all proud by giving us rafters of beautiful women and handsome men, with endless amounts of lust- driven, debaucherous moments. So let's take a moment to remember them all…
10) Daenery's clothed in her Dragons
What better way to kick off hot scenes than one which literally involves fire (dragon fire that is). Although this scene involved no actual sex, this is still one of the hottest Game of Thrones episodes to date as the beautiful Emilia Clarke proudly showed off her naked body as Daenerys was reborn and her Dragons are revealed for the first time.
9) Robb Starks passionate love making
Naughty, naughty Robb Stark just couldn't his cock in his trousers when he met  Lady Talisa Maegyr, a sharp tongued, high born healer. It's true what they say about love really being deadly in this case, but my god did they create an intense love scene for every viewer to fantasize about for years to come.
8) "The things I do for love…"
You know it already don't you! That's right, no matter how wrong and weird their incestuous relationship is, there is no denying that we had to include this raunchy sex scene in the hottest moments countdown.
Now yes, incest is not hot, but Jaime and Cersei Lannister are two very attractive characters and share a passionate love for each other that goes way beyond sibling love! And lets be honest, we all love a secret romance, no matter how bizarre it may be!
7) Jon knows something Ygritte 
Watching wilding Ygritte help Jon Snow forsake his Oath to the Nights Watch was definitely steamy enough to make it onto our top 10 list! Kit Harington played the virgin crow with complete perfection as the red haired wild one led him out of his clothes and into a hot spring pool inside a cave.
Yes, sounds quite far fetched, but it gave the perfect place for Jon Snow to give himself to the Wildling and break the first of his vows.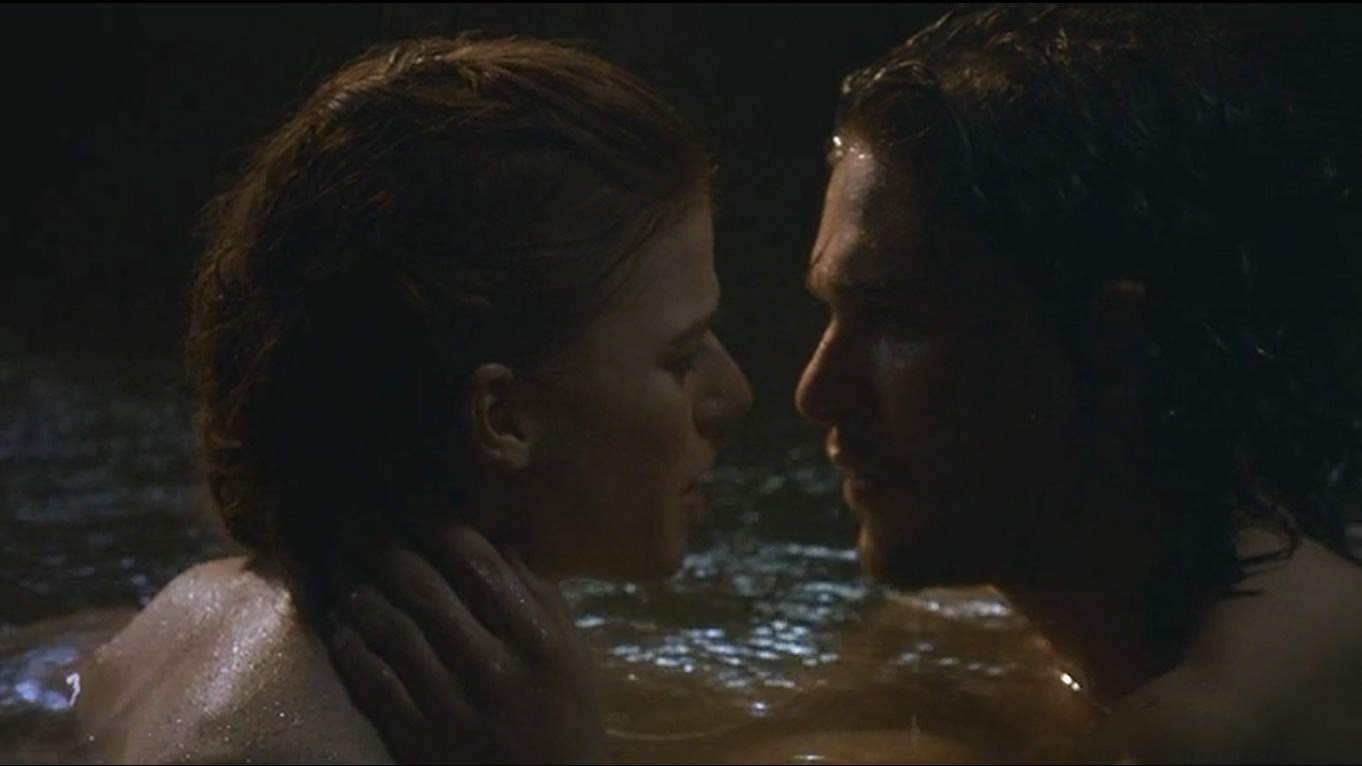 6) Two words – Margaery Tyrell
Not all of the hottest scenes have to involve sex, and this one in particular proves why. There is one simple reason why we picked this moment as being one of the hottest moments – it was a couple of minutes of the beautiful Natalie Dormer walking around completely in the buff! What a waste that Renly didn't want any part of her!
5) The Red Woman…
It doesn't really matter in what circumstance she appears, she just seems to let of an air of raw hotness. Now, we know she is all about the fire and so this may have something to do with it, but I think we're going to put it down to her voice and desire to undress for any man. From, Jon Snow, Stannis and even to the Onion Knight, she likes to use her womanly ways to control. But my god, she does it with sexiness.
4) A Prince's Orgy
Pretty much anytime Oberyn and Ellaria are around each other the sexual tension is tangible. But the scene we loved most was the Prince's hot Orgy with Ellaria! Yes, he really has it all.
3) Sharing is Caring
This scene is one of a few girl on girl scenes shown throughout the whore house but this one stands out the most as it include Northern whore Ros. Don't pretend that you haven't got a soft spot for her, we all do.
In this scene, Ros learns the art of seduction from another one of Little Finger's girls. This hot and wet lesson gives us a sneak peak of what the girls give to their customers and we aren't sorry they let us in on the secret.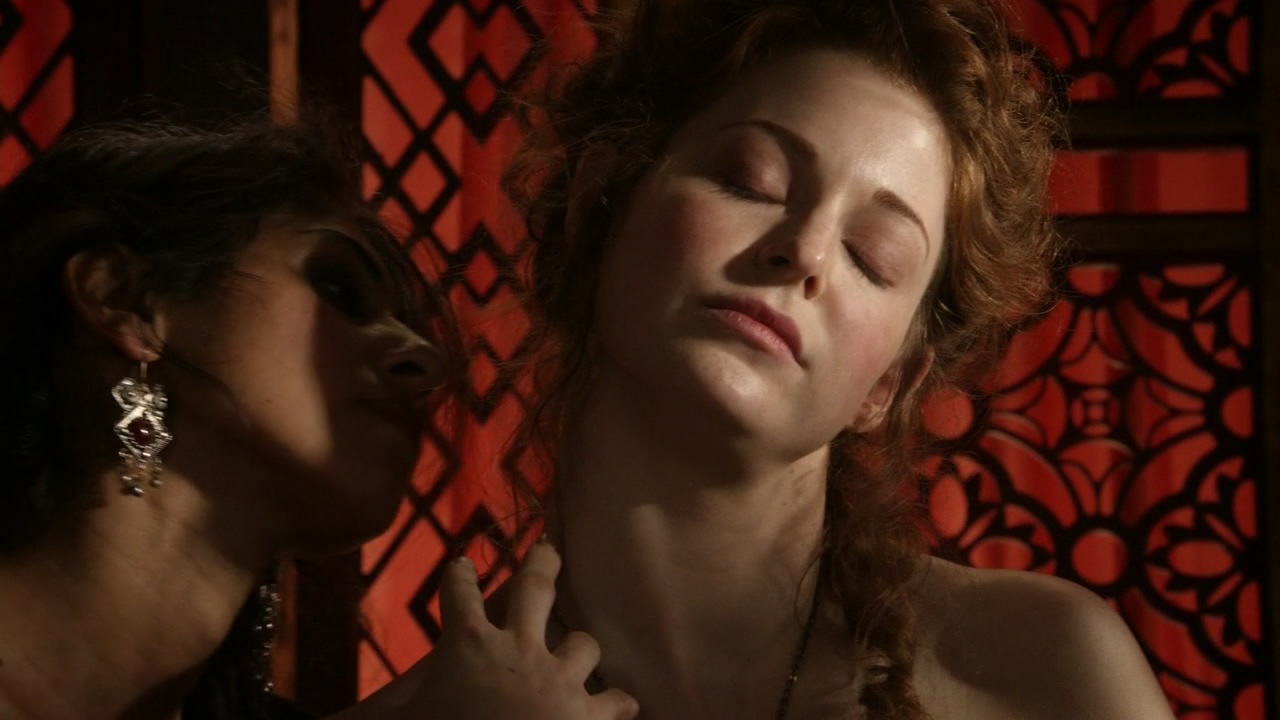 2) Daenerys learning how to please her Khal
This is undeniably one of the hottest scenes in Game of Thrones! Dany herself seems to create multitudes of sexy moments and she didn't fail with this one. Dany had decided she wanted to take Drogo, and not the other way around, so she turned to her handmaiden, Doreah for some hot, hot advice.
Although they never actually do the deed, Daenerys and Doreah give the viewers something to fantasize about with the very sexy lessons.
1) Daenerys pleases her Khal
It just had to be, and we all knew it. The scene where timid, little Daernerys Targaryen jumps on top of Dothraki leader, Khal Drogo, is the moment she truly became a woman. She used her newly acquired skills to pleasure her husband and show him what kind of woman she really was.
This is moment that wont be forgotten easily.
So that is our top 10 hottest moments! I bet we got you excited! Well don't worry too much, because the new series is just around the corner.
L xo