Browse By Category
Special Offers
Colours
Prices
Genders
Materials / Feel
Features
Brand
Yummy Cum Drops 30ml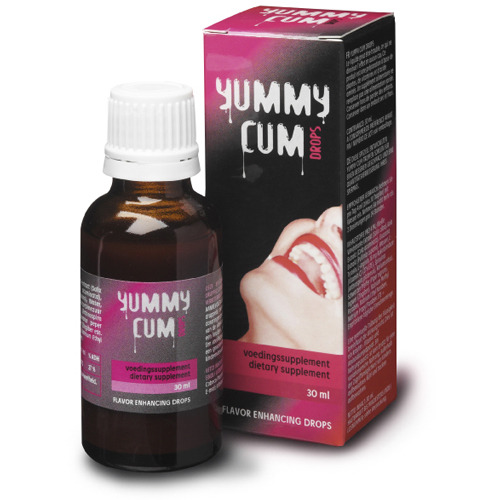 Recommended with this product
Description - Yummy Cum Drops 30ml
Want more frequent, stronger ejaculations that she'll beg to swallow every drop of? Yummy Cum Drops are a once-a-day supplement for men that makes your cum taste delicious and helps to increase the amount of semen produced for powerful orgasms.
Product specifications
| | |
| --- | --- |
| Designed For | Unisex |
| Features | Enhances The Flavour Of Sperm |
| Contents | 30ml Tube |
Full description - Yummy Cum Drops 30ml
A handy supplement for men, Yummy Cum Drops are designed to improve the flavour, consistency and power of your ejaculations for delicious tasting cum that is sure to be swallowed. Just 20 drops (about 4ml) of Yummy Cum Drops taken with a glass of water every day will delicately flavour your cum for a yummy sweet taste that she'll love to gulp down. Not only that but Yummy Cum Drops naturally help to increase your semen production for longer lasting, impressive ejaculations and more frequent climaxes.
Customer reviews for Yummy Cum Drops 30ml
Just what I needed
I like to start by saying a big thank you to bondora for an excellent service.
I've only been using this product for four days and already I've noticed a difference, the amount I produce has increased to at least double, which is good at this early stage, I'm sure in time it will only get better.
I will definitely be ordering more of this wonderful tonic in the future, as it has definitely worked for me.
Review by: Hotfuzz
amazing as per usual
as always Bondara well done brilliant service as per usual this is the second time round with these cum drops it is one of my fav aphrodisiacs.
Review by:
What can I say.
This item really does work. The amount of sperm when I cum has increased so much.
Review by: happy
amazing
i like to try out new aphrodisiacs from time to time when i came to giving this 1 a go i was completely blown away it certainly met my expectations as it got to work on me mega quickly will be getting more of this for sure brilliant product.
Review by:
Submit your review of the

Yummy Cum Drops 30ml
Reviews should be constructive, around 50 words long, should not contain swearing and must relate to an order (and the products within) placed with the submitted email address.
If these criteria are not met, your review will be rejected.
All reviews are moderated before publishing.
If you have a question regarding a product/order or regarding Customer Service please contact [email protected]