Browse By Category
Special Offers
Colours
Prices
Genders
Materials / Feel
Features
Vibrating Urethral Sound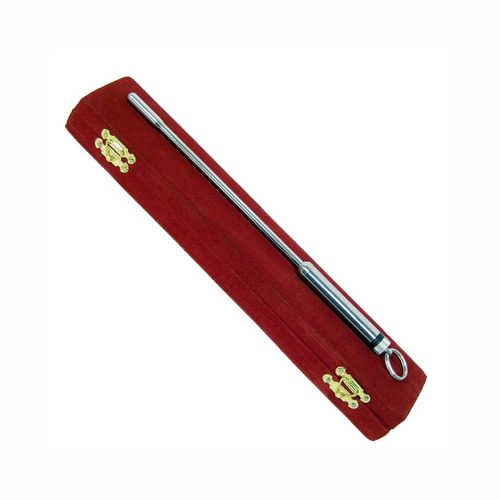 Recommended with this product
Free Batteries
Gift Wrappable
Description - Vibrating Urethral Sound
This high quality vibrating urethral sound can be used in a nice, tickly or even devious way! Use it to stimulate pretty much any part of the body - both internally and externally. And of course, used as a sounding device it delivers an unsurpassed stretching and stimulation experience. For the ultimate in sounding get the ultimate vibrating urethral sound.
Product specifications
| | |
| --- | --- |
| Material | Stainless Steel |
| Colour | Silver |
| Size | Upto 4.5 Inches Insertable - 0.5 Inch Wide |
| Features | Vibrating |
Full description - Vibrating Urethral Sound
This vibrating urethral sound is simply sensational. It is devious enough in its intended purpose, creating some intense urethral sensations. It can also be used as a pinpoint vibrator, with all the fun and exploration that entails. This fabulous vibrating urethral sound can be used both for internal and external stimulation - and it we've heard excellent reports back from some of our customers who have used it on female genitals too. A versatile toy which is guaranteed to please!
Customer reviews for Vibrating Urethral Sound
Urethral Sound
This is the highest quality sound I've ever used. It vibrates which makes it even more enticing. I use it both externally and especially internally as a sounding device. It's amazing! It's packaged well and easy to use. I get the best stretching and stimulation from this sounding device. It gives me all the satisfaction I need.
Review by: Angel
Sound
This sound not only does its work when I insert it, it also vibrates. I've used plain sounds before but nothing like this. The sound is a good size for me. It fits perfectly inside me and makes me VERY hard. The vibrations make the experience even better. The only problem I have is that I come very fast and very hard, as if that's a problem. The ring at the end makes for easy retrieval or I add a weight to get extra stimulation. This is a fine sound and I enjoy using it very much.
Review by: Andy
Submit your review of the

Vibrating Urethral Sound
Reviews should be constructive, around 50 words long, should not contain swearing and must relate to an order (and the products within) placed with the submitted email address.
If these criteria are not met, your review will be rejected.
All reviews are moderated before publishing.
If you have a question regarding a product/order or regarding Customer Service please contact [email protected]