Browse By Category
Special Offers
Colours
Prices
Insertable Lengths
Genders
Materials / Feel
Features
Brand
USB Vibrator Egg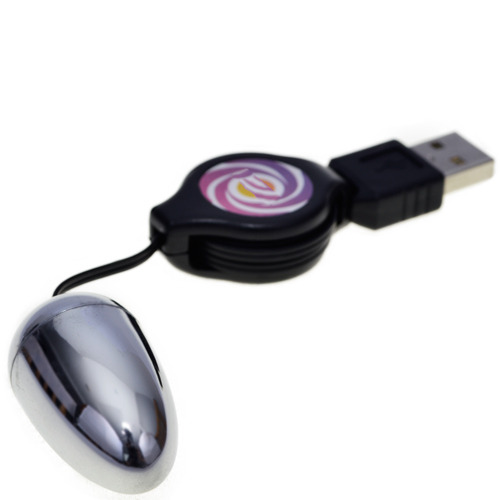 Recommended with this product
Description - USB Vibrator Egg
To call the USB Vibrator Egg powerful is probably doing it a disservice. For something so compact, this baby produces some serious teeth rattling vibrations that challenge its tiny size. Powered directly through a USB port, the Vibrator Egg delivers one speed of incredibly strong vibration for amazingly intense stimulation.
Product specifications
| | |
| --- | --- |
| Colour | Black Cable / Silver Egg |
| Material | ABS |
| Egg Size | 1.25" Long - 0.75 Inches Wide |
| Vibrations | Super Powerful! |
| Cord Length | 75cm, Retractable |
| Powered By | USB |
| Waterproof? | Splashproof |
Full description - USB Vibrator Egg
If you need serious power from a pocket sized vibrator then you can't go wrong with the USB Vibrator Egg. The size of a large acorn, the silver-finish bullet plugs directly into a USB port and immediately delivers one setting of stunningly powerful vibrations wherever you need them. Simple to use, there's no fiddly buttons to press- the egg is on when it's plugged in, off when it's not- and with no batteries to change you'll never find this going off unexpectedly in your bedside table!
Plug the egg into any available USB port and away you go! The retractable cable stretches around 29 inches so this is perfect for use with your laptop; watch your favourite internet porn and get incredible stimulation all in one go. Mains adapters for smart phones, car cigarette lighter adapters and any other USB port will power the Vibrator Egg making this a truly portable, hassle free vibrator.
Customer reviews for USB Vibrator Egg
small but wow
I bought this vibrating egg and tried it out its fast I always wanted a turbo egg and this is it wow orgasm after orgasm its the best I have bought well worth the money .its small but powerful very I never need batteries again it hasn't got long flex u can plug into a usb plug brilliant wow and wow again
Review by: a
Fantastic
Despite their small size, these are actually pretty decent.
I never had high hopes for them, but they were pretty powerful.
They get a little hot when used for around 5-10 minutes, not sure if it would fail if used longer.

2 or more of them, a USB extension and hub = fun times.
Review by: Kris
Compact
More powerful than a bullet vibrator and even more compact. It was louder than I expected, though. The fact that it'll never need batteries and the vibes won't get weaker due to dying batteries is a massive plus. The wire is about the length of my leg when extended. An on/off button would've been good. A little beast for a tenner!
Review by:
Too small
I know, I know, the dimensions for everything are right here. I'm no giant, but when I got this, I found the product too small all around. Egg was too small (especially to comfortably hold or manipulate), cord was too short (if you're in bed with the computer). However, the big positive is that this provides very strong vibrations which will not diminish due to batteries dying. Just wish it was bigger.
Review by:
Submit your review of the

USB Vibrator Egg
Reviews should be constructive, around 50 words long, should not contain swearing and must relate to an order (and the products within) placed with the submitted email address.
If these criteria are not met, your review will be rejected.
All reviews are moderated before publishing.
If you have a question regarding a product/order or regarding Customer Service please contact [email protected]