Browse By Category
Special Offers
Colours
Prices
Genders
Materials / Feel
Features
Brand
Uses
Tenga Egg Male Masturbator- 'Classic' range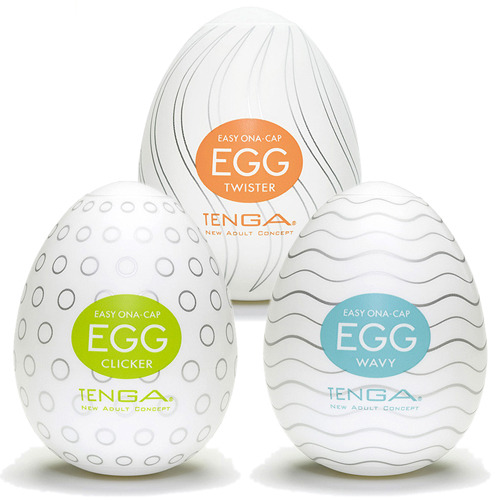 Recommended with this product
Description - Tenga Egg Male Masturbator- 'Classic' range
Crack open the revolutionary Tenga Egg male masturbator and enjoy a completely unique and explosive orgasm. The stretchy egg features a tight hole at the base that engulfs you and the Tenga Egg fits to literally any size of manhood. Just add some of the lube and enjoy knee-trembling sensations from this amazing futuristic male masturbator. Available in three different textures. Please note that each egg is sold seperately.
View the 'Atmosphere' range
View the 'Summer Collection' range
Product specifications
| | |
| --- | --- |
| Colour | White / Blue |
| Diameter | 0.5 Inches (Internal Canal) |
| Length | 2.5 Inches (Stretches Up To 12 Inches) |
| Features | Textured Inside, Waterproof |
Full description - Tenga Egg Male Masturbator- 'Classic' range
Unwrap the unique packaging of the Tenga Egg and marvel at the soft, stretchy texture of this unique male masturbator. Initially egg-shaped, the sleeve features a tight opening hole at the base and stretches to accommodate literally any size penis as you penetrate it. Stretch and pull it over every inch of your manhood as you twist and rub yourself to an incredible climax. Inside the sleeve is one of Tenga's exclusive textures that feature waves, ridges, nodules or ribs for an innovative experience that feels like no other male masturbation product on the market. A sachet of lube is included with each Tenga Egg for a uniquely portable and discreet toy that you can take anywhere. Designed for one use only, we've found that with careful use and thorough cleaning your Egg should actually be suitable for multiple uses. Why not get all three revolutionary textures and experience their incredible stimulating power for yourself?
Wavy
The Tenga Egg Wavy texture features multiple layers of pronounced waves that grasp and pull at your penis as you thrust. Most suited to a traditional 'up-down' masturbation technique, the Wavy sleeve really comes into its own when you apply varying levels of pressure at the head of the penis or down your shaft.
Clicker
Numerous bumps, nubs and nodules cover the inside of the Tenga Egg Clicker sleeve. The Clicker earns its unusual title due to the 'clicking' or 'popping' sensation you'll feel as the tiny pronounced bumps rub every inch of you for an intense and unique orgasm. Used with plenty of lube, the Clicker is an ideal Egg texture for using in any position and any combination of strokes. Try twisting the Clicker as you thrust for an intense massage directed at the head of your penis.
Twister
Smooth vertical swirls and ridges run the length of the Tenga Egg Twister texture that massage and grip the full length of your penis. Ideal for a more traditional 'up-down' masturbation motion as well as twisting and squeezing movements, the Twister is a versatile sleeve that produces unique stimulation each time as you vary the pressure, speed and force of your thrust. Try rotating the Twister slightly at the head of your penis to create a swirling 'tugging' sensation.
Customer reviews for Tenga Egg Male Masturbator- 'Classic' range
Brilliant.
I got one of these for my partner and he loved it....REALLY loved it. It's easy and fun to use either on his own or as we did as a couple. One of the best toys ever.
Review by:
Superb
Just have to say that this is the best ever. The pleasure I get from my Tenga is better then some pussy I have had my cock in. So if your after pleasure for yourself then yes get it.

Ladies get this egg tie your man up on his back. Lube up the egg and give him the best hand job he has ever had.
Review by:
Pleasantly suprised
Bought this as a stocking filler and partner was unsure about it at first but loved it. Great for forplay or solo but does start to show signs of wear and tear but at the price replacing really isn't and issue we will be buying the full range ;)
Review by:
Egg
I bought this originally as part of a larger order because I wanted the free gift when you spend a certain amount. I wasn't really sure what to expect from the tenga egg because it looks really weird. It looks just like a real egg and you unwrap the outside which leaves you with a soft sleeve which sort of feels like that silly putty stuff. There's a hole in the bottom where you put your cock and then you have a wank as normal because it's really stretchy and fits your whole length. The texture felt really good and I liked that it catches everything when you cum so there's little clean up! Apparently this was designed for just one use, but I washed it carefully in the sink and left it to dry and I've used it a couple more times with no problems. Great fun. I'm going to buy some more as presents for a stag do.
Review by:
Submit your review of the

Tenga Egg Male Masturbator- 'Classic' range
Reviews should be constructive, around 50 words long, should not contain swearing and must relate to an order (and the products within) placed with the submitted email address.
If these criteria are not met, your review will be rejected.
All reviews are moderated before publishing.
If you have a question regarding a product/order or regarding Customer Service please contact [email protected]