Browse By Category
Special Offers
Colours
Prices
Genders
Materials / Feel
Features
Stainless Steel Ball Stretchers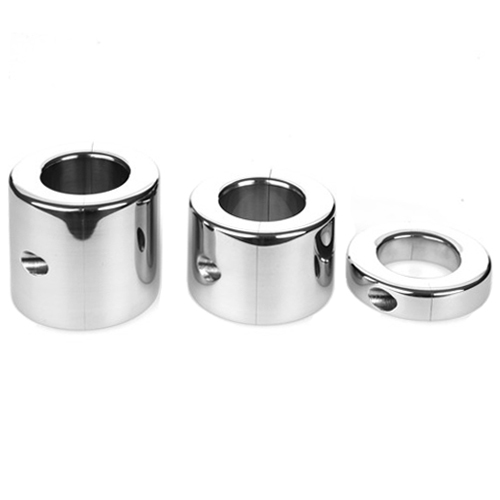 Recommended with this product
Description - Stainless Steel Ball Stretchers
Super high quality, hand polished, medical grade stainless steel ball stretchers. 15mm thickness and 35mm internal diameter. A selection of widths are available: 14mm (200g), 28mm (460g), 42mm (650g), 56mm (870g). Supplied in a black velvet pouch. These are the highest quality stainless steel ball stretchers available in the UK.
Product specifications
| | |
| --- | --- |
| Material | Stainless Steel Medical Grade (the best you can get) |
| Internal Diameter | 35mm |
| Thickness | 15mm |
| Width Sizes Avaliable | 14mm (200g), 28mm (460g), 42mm (650g), 56mm (870g) |
| Ball Stretcher Supplied With | Allen Key and Stylish Black Velvet Bag |
Full description - Stainless Steel Ball Stretchers
These beautiful and stylish stainless steel hand polished ball stretchers are the best you can get. Made of medical grade stainless steel and available in various width sizes. Supplied in a lovely black velvet pouch which you can use to store or present as a gift. The stainless steel ring splits in half and is applied around the testicles. It is then secured by two screws with the supplied allen key. Sizing is easy and these ball stretchers are very comfortable to wear.
Customer reviews for Stainless Steel Ball Stretchers
Definately stretching...
Recently purchased 28mm 460g stretcher and feel they are definately lengthening my sac. With careful planning it is easy to put on and comfortable to wear. Careful of pinching when tightening. Hot bath perfect opportunity. Slowly building up wear time. 460g for first time seems fine although not easy to hide the extra bulge. No ball slippage like some cock rings. Like the gentle ache as i stretch and the swing when I walk. Dog walking definately more fun!. Seems a quality functional product.... recommended for some fun
Review by: Mr Happy
Further progress on my stretching
Further to my recent reviews, i have now taken delivery of my 56mm 870gm S/Steel stretcher. I now wear this with my 28mm 260gm, providing 1130gm of weight on my balls. I cannot put into words how erotic this is, the feeling gained through haveing 1 kilo of steel encasing and pulling on my balls, Utopia cums to mind!
I am yet to add my 14mm 200gm, however at the rate of progress i have made it is only a matter of time :)
These products are wonderful and have given me so much pleasure, thank you Bondara.
Review by: Cass
Ball stretching
Well I never usually do reviews but feel on this occasion I owe it to any one thinking of ball stretchers.

I was in the gym showers after a work out and notice the guy next to me had a silver ring around his balls. I'm straight but the sight of those hangers was quite impressive!

Now I have naturally I guess average sized nuts but in quite a tight sack.

So a little investigation on Google and found them on bondara. Read the reviews and thought why not!
My first purchase was a 36mm wedding ring type. Received the next day. Unfortunately it was a little to big and kept slipping off my tight sack.

So ordered a 30mm wedding ring, which again arrived next day.
This being a smaller diameter was more tricky to get on.
Best method I've found is to put a hair and around your balls to trap them. Manuver one half in place, then the top part then remove the band.

Wore it for about 8 hrs a day, just removing at night for the first 3 weeks.
The feeling you get from these is incredible. As you walk and your balls swing it gently pulls on your fore skin. Never felt so horny all day long.

After 3 weeks progressed to wearing the 30mm 24/7.
Also the adding the 36mm for 8hrs a day, removing at night, mainly as the larger outside dis. Would get stuck between my legs during sleep and wake me.
After 6 weeks I ordered another 30 mm wedding ring and a 28mm s/ steel stretcher.
Now after 3 months I wear 2x 30mm and 1 x 36 mm wedding rings 24/7 and 1 x 28 mm s/ steel bs for 4 hrs a day during the evening. So 665 grams 24/7 and 1125 g 4 hrs a day.
Think I'm ready to ad another 30mm wedding ring 24/7 too.
Totally addicted to the feeling of the weight pulling my balls and cock all day long.

As for the wife, cautious at first now loves them. Can get my cock and balls with weights in her pussy. She als loves the feeling of a kilo of steel pounding her clit hard.
As for my orgasms well last about 3 times longer and harder than before. Possibly due to the semen having to travel a lot further?.
My advise, get some....but start slowly and not to heavy to quick.
Review by: Mr s
Getting used to it - Very Pleased
I've been playing with rigid cock rings for couple of years now, using a 2 or 3 x 50mm x 10mm combo for c&b, with 2 x 45mm x 10mm for balls only, but as others have said, security of the ball rings is a problem - last thing you need dropping out of your jeans when walking around Tesco. As my balls are pretty high, I thought I'd try the 14mm for starters and glad I did. With a 35mm internal, it took quite some time initially to get on for the first time. I use a little Vaseline and on subsequent attempts started with one side partially screwed, gathering the sac and swivelling the free side around. I use a broad, vaselined lolly stick where the two halves join to stop pinching - take care not to get splinters. Am now using with a 45 x 10 rigid and when the stretching is complete, hopefully in a few months, I'll move up a level. Started with 10 minutes at a time, working up to an hour or two. Looking forward to 24 x 7 operation.
Review by: JayBex
Submit your review of the

Stainless Steel Ball Stretchers
Reviews should be constructive, around 50 words long, should not contain swearing and must relate to an order (and the products within) placed with the submitted email address.
If these criteria are not met, your review will be rejected.
All reviews are moderated before publishing.
If you have a question regarding a product/order or regarding Customer Service please contact [email protected]