Browse By Category
Special Offers
Colours
Prices
Genders
Materials / Feel
Features
Ultimate Love Box - Sex Toy Kit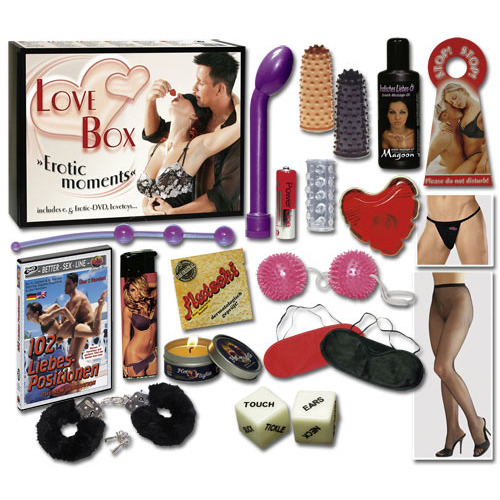 Recommended with this product
Description - Ultimate Love Box - Sex Toy Kit
This fabulous Love Box contains EVERYTHING you could possibly need for passion filled nights with your partner. Read below to find out what is included in this fabulous Love Box set.
Full description - Ultimate Love Box - Sex Toy Kit
A set of 16 pieces for longlasting and exciting nights full of erotic and lust! Contents:
- 1x Thong for Him (Size S-L)
- 1x Mesh Tights (Size S-L)
- 2x Chinese Lust Fingers
- 1x Studded Penis Ring
- 1x Anal Beads
- 1x Set of Love Balls
- 1x Pair of Handcuffs
- 1x Vibrator incl. Batteries
- 1x Massage Oil, 50 ml
- 1x Lubricant
- 1x Door Sign "Do not disturb"
- 2x Blindfold Masks (red and black)
- 1x Love Dice "Glow in the Dark"
- 1x Shower and Bathing foam, 60 ml, heart-shaped container
- 1x Scented Candle
- 1x DVD "102 love positions"

What a great night or weekend you and your partner are going to have!

* The manufacturer of the Love Box reserves the right to replace any of the items above with an alternative product should any of the items not be available at the time of production.
Customer reviews for Ultimate Love Box - Sex Toy Kit
Something For Everyone
I bought this kit to have gifts handy to give to my friends. There's something here for everyone, including me since had to have something to keep for myself. I love all the gear - blindfolds, love dice, anal beads. handcuffs, massage oil, lots of great gifts! I kept the vibrator and shower and bath foam for myself. What a delightful kit well worth the money I spent on it.
Review by:
Wow!
I bought this box of sex toys for our anniversary. My partner loves the toys. We get all kinds of wonderful things û love balls, a massage candle, blindfolds, sleeves, anal beads, and all kinds of other delights. There are so many wonderful toys that we're going to play with them for a long time and never use the same one twice. This love box has improved our sex lives in a wonderful way, and I'm glad I bought it.
Review by: Gina
Love Box
My two lovers bought this box set of goodies for me for my birthday. I love being loved by two men! So many wonderful toys, and they're all MINE! I get anal toys, candles, lube, clothing, a sex positions DVD (some new ones in there, too), and some kinky toys like handcuffs. It's going to be a party in my bedroom every night now! I've already used the masks, glow in the dark love dice, candles, and love balls. The blokes fought over the penis ring and the cuffs. So much fun! What a great gift!
Review by: Carolyn
not 100%
Me and my partner were so excited for this to be delivered.
Once delivered a few products were missing (only a door sign and bath and shower foam) Everything was in a different language so the dice (I was quite excited about) I have no idea what they say. The items themselves are fantastic just not 100% what I was expecting
Review by:
Submit your review of the

Ultimate Love Box - Sex Toy Kit
Reviews should be constructive, around 50 words long, should not contain swearing and must relate to an order (and the products within) placed with the submitted email address.
If these criteria are not met, your review will be rejected.
All reviews are moderated before publishing.
If you have a question regarding a product/order or regarding Customer Service please contact [email protected]