Browse By Category
Special Offers
Colours
Prices
Insertable Lengths
Genders
Materials / Feel
Features
Ultimate Saddle Thrusting Sex Machine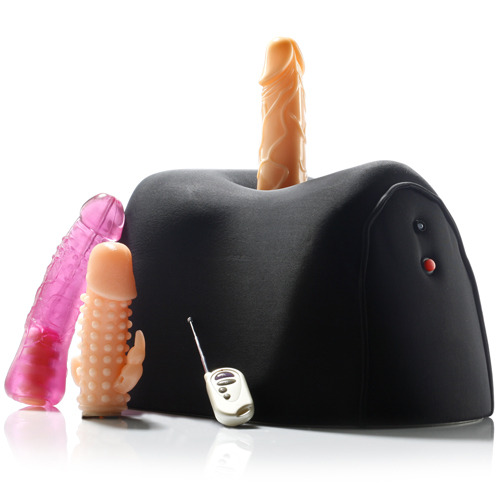 Recommended with this product
Description - Ultimate Saddle Thrusting Sex Machine
This ultimate sex machine delivers up to 300 powerful dildo strokes per minute! A fully remote controlled, mains-powered sex machine providing 3 inch long strokes for a totally mind-blowing penetration experience! Non-stop thrusting action - pleasantly rhythmic and gentle or very powerful and hard. The best saddle style sex machine on the UK market - and thats a promise.
Product specifications
| | |
| --- | --- |
| Thrusting Action | 50-300 Strokes Per Minute |
| Thrusting Action | Gentle or Powerful 3 Inch Up and Down Strokes |
| Thrusting Action | Multi-Speed (7 Step) |
| Features | Remote Controlled and Ejaculation (Optional Use) |
| Sex Machine Veined Dildo Size | 1 8" Jelly Dildo, 1 7" Flesh Dildo, 1 6" Flesh Noduled/Clit Dildo |
| Noduled / Rabbit Dildo Size | 6 Inches |
| Power | 110v-240v |
| Size | Height 9 Inches, Width 8 Inches, Length 14 Inches |
| Remote Control Distance | 20 Feet |
| What's included | Black Sex Machine, 3 Dildos, Remote Control, Injector (Ejaculation), Adaptor with UK plug |
Full description - Ultimate Saddle Thrusting Sex Machine
Most sex machines offered today are battery operated. Battery operated machines are so weak you can stop the dildo from thrusting by simply holding it with one hand. This superb mains-powered sex machine is the way forward! And we are the first and only shop to stock this magnificent machine in the UK.
Fully remote controlled, mains-powered, up to 300 strokes per minute (7 step multi-speed), 3 inch long up and down strokes and ejaculating! The ejaculation feature is included and the use of it is optional. Grab the remote - get yourself seated on the comfortable and well-built saddle - set the thrusting speed according to your mood - and experience penetration which will blow your mind.
Please note, in order to use the ejaculation feature you will require water based lubricant (not supplied). To fill the internal canister simply attach the ejaculating dildo (with through-hole), then inject lubricant down the dildo using the included syringe. The lubricant will then fill the internal canister and be pumped back out through the dildo if you choose to use the ejaculation feature.
Guaranteed! This fully remote controlled, powerfully thrusting and ejaculating sex machine is the number one saddle style sex machine available today.
Please note that due to the size and weight of this product it cannot be sent via Royal Mail delivery services and will instead be delivered by a courier (Mon-Fri only. Saturday delivery is not available) Delivery times may vary. If your order is placed after 12:30pm it will be despatched the following day via Parcel Force. For more detailed information please contact Customer Services.
Customer reviews for Ultimate Saddle Thrusting Sex Machine
Holy hell this is truely unbelievable
Christmas day i opened this and i had to try it there and then. This machine blew my mind after the orgasm i kept going and they came one after another i was left a jibbering wreck but than I discovered Top speed, OMG.
Review by: P
Wow
Brought this machine a while back, my god it's fantastic. I've used it everyday 5 - 6 times a day and my arse has never been so satisfied, my orgasms are amazing and I use it on full speed every time, the penetration is deep and satisfying and sometimes for extra enjoyment I insert another dildo too! So go for it you won't be disappointed....I'm not
Review by:
Top Class
Bought mine over a year ago and its still going strong, my partner and i enjoy the many imaginative ways we use it not to mention the multiple super intense orgasms... You will be more than satisfied in more ways than one.
Review by: Andy
wow
Got this for my partner she loves it I had to try it guys you got to get one. Wow wow go for it .
Review by:
Submit your review of the

Ultimate Saddle Thrusting Sex Machine
Reviews should be constructive, around 50 words long, should not contain swearing and must relate to an order (and the products within) placed with the submitted email address.
If these criteria are not met, your review will be rejected.
All reviews are moderated before publishing.
If you have a question regarding a product/order or regarding Customer Service please contact [email protected]