Browse By Category
Special Offers
Colours
Prices
Insertable Lengths
Genders
Materials / Feel
Features
Brand
Party In Your Pants - Remote Vibrating Knickers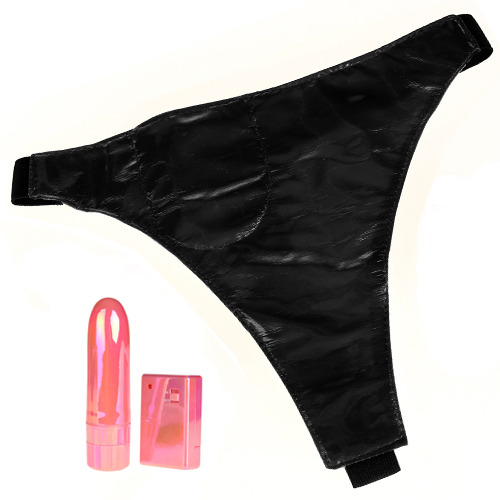 Recommended with this product
Free Batteries
Gift Wrappable
Description - Party In Your Pants - Remote Vibrating Knickers
Two remote control sex toys in one! This waterproof and remote control bullet vibrator can be used on its own or with the supplied thong. Slip the bullet into the thong for some amazing stimulation. Use it on your own, or hand the controls over to your partner - Use the waterproof bullet in the bath or have a party in your pants! Remote control range: Over 50 feet (15 metres)!
Product specifications
| | |
| --- | --- |
| Colour | Pink Pearl Shine |
| Material | Plastic |
| Features | Powerful Vibrations - Use With or Without Panties |
| Panties Size | Fully Elasticated Back, Fits up To Size 14 |
| Length | 4" |
| Diameter | 1" |
| Range | Over 50 Feet (15 meters)! |
| Flexible? | Solid |
| Waterproof? | Yes, Fully Submersible. Please ensure the battery cap is securely fastened |
Full description - Party In Your Pants - Remote Vibrating Knickers
Here's the most versatile bullet vibrator available today. Slide this seductively smooth bullet vibrator into the supplied thong for some knicker-twisting satisfaction. You can of course also use this powerful bullet on its own by handing the controls over to your partner for some exhilarating remote controlled stimulation fun. Or slide it into a regular pair of knickers when you're out having dinner. The included thong has a pouch on the inside to hold the vibrating bullet in the right position. Or are you planning on having a bath? Not a problem - this fully submersible bullet vibrator will be more than willing to join you for a dip in the water. Only your imagination will limit the things you can get up to with this fab remote controlled bullet vibe. This fantastic remote vibrating bullet has a range of up to over 50 feet (15 metres)! The bullet can be in one room and the controls in another.
Customer reviews for Party In Your Pants - Remote Vibrating Knickers
OMG!!!!
I bought these knickers and WOW they are brilliant. I use them with the bullet, and it makes me squirt. I use them all day, and in the shower. The orgasm is so intense. I would recommend to anyone, who has no man around, these are the ultimate sex toy.
Review by: katy
fit like a charm
I like to wear these knickers in the hot tub when we enjoy some wine and snacks. The bullet also comes out so I may use it separately. The price was good and these knickers fit like a charm. Shipping was fast, too. I love these knickers!
Review by:
Vibrating Knickers
Wow, what a cracking set of knickers! They're comfortable and the bullet really makes its point! I love the vibrations and they make me come hard. I wear them all day, wash them, dry them, and wear them again! They're that addictive!
Review by:
OMG Wot A Bargain
I go these panties for myself and omg wot a bargain I wear them all day.
Review by: dave
Submit your review of the

Party In Your Pants - Remote Vibrating Knickers
Reviews should be constructive, around 50 words long, should not contain swearing and must relate to an order (and the products within) placed with the submitted email address.
If these criteria are not met, your review will be rejected.
All reviews are moderated before publishing.
If you have a question regarding a product/order or regarding Customer Service please contact [email protected]