Browse By Category
Special Offers
Colours
Prices
Insertable Lengths
Genders
Materials / Feel
Features
Brand
10-Speed Vibro Remote Egg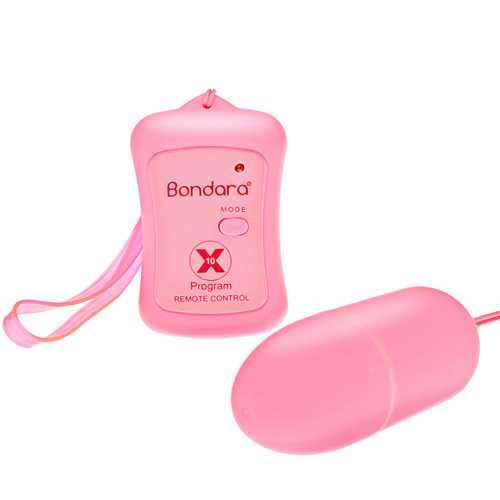 Recommended with this product
Free Batteries
Gift Wrappable
Description - 10-Speed Vibro Remote Egg
This high tech remote egg delivers 10 speeds of constant, escalating and pulsating vibrations to provide you with the maximum amount of satisfaction. The easy to use remote activates the egg from up to 50 feet away letting you and a lover have copious amounts of fun anywhere - even in the water. The silky-smooth egg features a retrieval cord allowing you to insert it internally or it can be placed inside your knickers for the most amazing stimulation you will ever have. A 5 Star Buy!
Product specifications
Colour
Pink
Material
Soft-Touch, Skin-Safe PU
Size
2.5" Long / 1.5" Wide
Features
10 Speed Vibrating, Pulsating and Escalating
Range
25 Meters or more
Waterproof
Yes
Full description - 10-Speed Vibro Remote Egg
Experience complete freedom of movement and an abundance of fun with this high-tech remote egg. A hands free, wireless and remote control egg with an exceptional range of approximately 50 feet for solo play or unforgettable fun with your lover! Flick your way through the 10 exciting speeds of constant, pulsating and escalating vibrations for maximum stimulation. The ultra-smooth sleek and newly designed egg includes a retrieval wire. Slide the egg into your knickers or insert it! Includes easy to use remote controls and fully waterproof!
Customer reviews for 10-Speed Vibro Remote Egg
Fantastic teaser!
read the mixed reviews before buying but got it dirt cheap in the sale so thought it worth a try. am sooooo pleased I did! amazing vibrate modes, can be discretely worn (quiet enough to wear in front of people) and works over long range. partner made me wear it to the shop and he kept changing the modes while we were there. big turn on for both of us, he loves having total control. also great for tucking in knickers for clit stimulation. amazing product, highly recommend!!
Review by: Hannah
Girlfriend in control
My girlfriend and I love the egg. As well as playing at home I have also slipped it in my pussy before we go out and my gf has the control. She can then drive me crazy in the middle of strangers. So erotic. I also use it on my clit when I am waiting for my gf to come home mmmmm.
Review by: MW
amazing
me and my girlfriend love the love egg it has added so much fun to our sex life and she loves it when i take control i would recomend it to every couple
Review by: McLovin
Oh My Goodness!
This egg is everything I could possibly ask for. Remote. Waterproof. Small. Silent. Cheap. I share the toy with my partner and he loves to tease me with the controls. The range is good and it sees through walls and around corners. This is a wonderful sex toy that gets lots of action around here.
Review by:
Submit your review of the

10-Speed Vibro Remote Egg
Reviews should be constructive, around 50 words long, should not contain swearing and must relate to an order (and the products within) placed with the submitted email address.
If these criteria are not met, your review will be rejected.
All reviews are moderated before publishing.
If you have a question regarding a product/order or regarding Customer Service please contact [email protected]