Browse By Category
Special Offers
Colours
Prices
Genders
Materials / Feel
Features
Brand
PVC Fitted Bed Sheet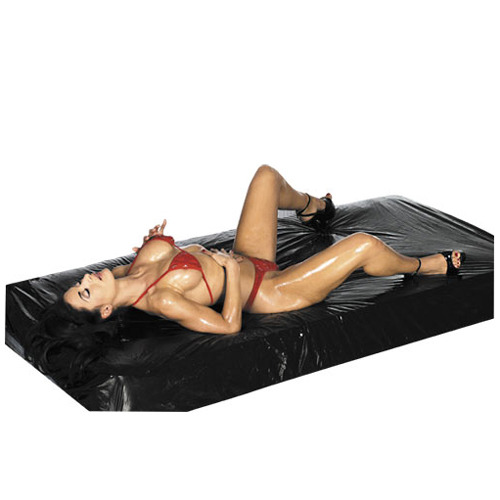 Recommended with this product
Description - PVC Fitted Bed Sheet
If you like it wet and slippery then this is the pvc bed sheet for you! Get oiled up or lubed up for the most exciting and hot sex games. Fulfil all your erotic dreams with these fabulous, heavy-duty and shiny black PVC bed sheet. Ideal for water-sports too! Fitted - King-size - 220x220cm
Product specifications
| | |
| --- | --- |
| Size | 220x220cm - Kingsize |
| Style | Fitted |
| Colour | Black |
| Sheet Care | Do not machine-wash. Wipe with a damp cloth |
Full description - PVC Fitted Bed Sheet
Black, smooth and shiny fitted PVC bed sheet to fulfil all your slippery fetish dreams. All sides are fringed with stretchy material for a secure grip on the mattress. Smother yourselves in oil, lube, cream, chocolate or whatever else takes your fancy and go completely wild without messing up your own bed sheets or floor! Do not machine-wash this PVC bed sheet, but clean with a damp cloth. 220x220cm - King-size - Fitted.
Customer reviews for PVC Fitted Bed Sheet
Fitted Bed Sheet - PVC
I bought a complete set of PVC sheets go to with our fetish play. These sheets are wonderful! Not too expensive and VERY sturdy. They're also slick so we slide around easily. Water play is lots of fun on these sheets and they are very easy to clean up. I have a king sized bed so these sheets are perfect for us.
Review by: Julie
Fitted PVC Sheet
It's hard to find PVC bed sheets that don't cost an arm and a leg but these not only fit, they are reasonable. We have a king sized bed so these sheets are perfect for us. They clean up easily with a sponge and they feel so soft and slick when we use them. These sheets can take lots of varieties of fluids and they don't stain. What a bargain!
Review by: Sandra
PVC sheets
These bed sheets are wonderful. They're like a Slip 'n Slide. Sleek and slippery, they feel so good with the oils, lubes, and such. And they're a slick black. We love to use them on our sexy weekend jaunts. We slide around on them and have a great time. They don't stain and they don't tear. We get into all kinds of sex play with them, with vibrators and cuffs, restraints bars and such, and the bed sheets hold up fine. They also clean up quickly. The gunk comes right off with a warm wash cloth. Very nice sheets.
Review by: Maurice
Great sheets - for awhile
Loved these sheets at first - as indicated, they're great for getting oiled up and having slippery fun. However, they have a lingering PVC odor that just never seems to fade. Moreover, the sheet only lasted four months before it began to tear along a seam/fold. If not for the odor and, more importantly, the tearing, I'd give them 5 stars.
Review by: Brian
Submit your review of the

PVC Fitted Bed Sheet
Reviews should be constructive, around 50 words long, should not contain swearing and must relate to an order (and the products within) placed with the submitted email address.
If these criteria are not met, your review will be rejected.
All reviews are moderated before publishing.
If you have a question regarding a product/order or regarding Customer Service please contact [email protected]