Browse By Category
Special Offers
Colours
Prices
Genders
Materials / Feel
Features
Penis Wand with Glans Ring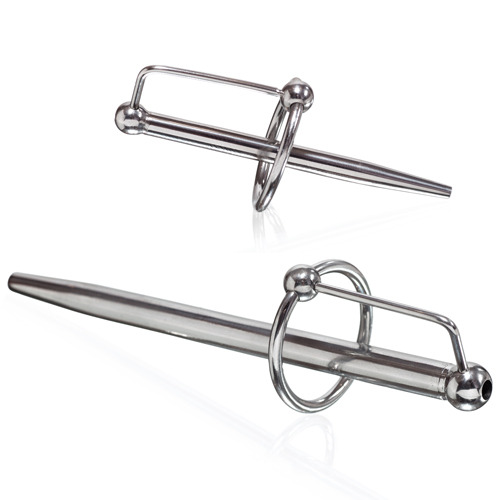 Recommended with this product
Description - Penis Wand with Glans Ring
The glans ring on this fantastic penis wand hugs your penis head when the shaft is inserted into the urethra. This provides the amazing feeling of a firm hug around the penis and prevents the wand from slipping out when worn. The high polish stainless steel penis wand includes a hollow shaft allowing you to cum and urinate.
Product specifications
| | |
| --- | --- |
| Material | Stainless Steel |
| Colour | Silver |
| Penis Plug Size1 | Hollow Shaft, 75mm Long x 6mm Wide |
| Penis Plug Size2 | Hollow Shaft, 120mm Long x 8mm Wide |
| Glans Ring Size | 28mm Inner Diameter |
| Additional Features | 10mm Frenulum Massage Ball |
Full description - Penis Wand with Glans Ring
The polished stainless steel penis wand with glans ring has been specifically designed so it won't slip out when inserted into the urethra. The glans ring hugs your penis to give it a nice firm head, similar to the experience before ejaculating. This also allows the penis wand to be worn without the need of a piercing. She shaft of the wand is hollow which allows for urination and ejaculation when worn.
Customer reviews for Penis Wand with Glans Ring
Love this
I thought the ring was a bit small when it arrived, but with a little patience I got it over my glans & it feels great when in. It can take even more patience to remove, but as you can pee & cum with it in, why do you need to take it out? Highly recommended.
Review by: mik
Penis Wand w/Glans Ring
This penis wand with glans ring is very effective and does the job quite well. It insets easily and opens me right up. I love the feel of this wand inside me because I get very hard and rigid. The glans ring makes it look incredible. The hollow shaft allows me to come and pee, too so it's purely functional. I'm very happy with my penis wand and glans ring.
Review by: Ned
YES!
I'm upgrading my CBT collection and when I saw this wand and glans ring set I knew I had to have it. Only the best sex toys for me! The wand is a perfect fit and I get the most amazing erections when I use it. The glans ring holds everything in place and gives me even more stimulation. My orgasms rock my world when I wear this device and I use it regularly to stimulate myself. It's a keeper!
Review by: Homer
Submit your review of the

Penis Wand with Glans Ring
Reviews should be constructive, around 50 words long, should not contain swearing and must relate to an order (and the products within) placed with the submitted email address.
If these criteria are not met, your review will be rejected.
All reviews are moderated before publishing.
If you have a question regarding a product/order or regarding Customer Service please contact [email protected]