Browse By Category
Special Offers
Colours
Prices
Genders
Materials / Feel
Features
Penis Plug With Glans-Ring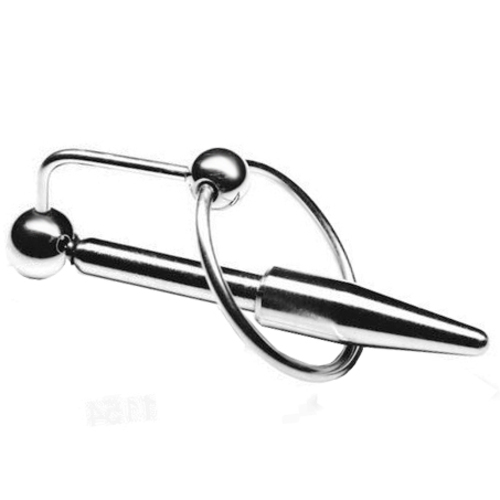 Recommended with this product
Description - Penis Plug With Glans-Ring
A high quality stainless steel bullet shaped penis plug (42mm x 8mm) including a 30mm glans ring to hug your penis head. The 30mm glans ring also includes a ball hinge to stimulate the Frenulum. This high polished penis plug and glans ring combo provides the ultimate wearing experience.
Product specifications
| | |
| --- | --- |
| Material | Stainless Steel |
| Colour | Silver |
| Penis Plug Size | Solid Shaft, 42mm Long x 8mm Wide |
| Glans Ring Size | 28mm Inner Diameter (Removable) |
| Additional Features | 10mm Frenulum Massage Ball |
Full description - Penis Plug With Glans-Ring
This is the perfect penis plug and glans ring combination. The penis plug stimulates your urethra while the tightness of the glans ring, delivers highly arousing and erotic sensations, providing your cock a hard firm head, similar to the moment before ejaculation. The glans ring is attached to the penis plug via the small ball hinge which gives excellent stimulation for the Frenulum.
Customer reviews for Penis Plug With Glans-Ring
Love it
Love my penis plugs and love wanking 2.
Review by: Hotcum88
Penis Plug w/Glans Ring
This is one of the best penis plugs w/glans ring I've ever seen. I love stainless steel bondage toys, too. This one is practically a work of art. It's beautiful to behold and it looks very fetching when I wear it. It was a very good price and in stock. Shipped quickly too. When I wear it I'm harder than normal and the glans ring adds to the feeling. I'm very happy with this device. It's a winner!
Review by: Bryan
Penis Plug
My dom bought me this penis plug with glans ring and it's a perfect fit. The penis plug makes me harder and bigger than ever, and the glans ring makes me feel even more sensitive than I usually do. I can wear this penis plug for a long time to give myself pleasure, and my dom likes the way I look in it. We use it when getting into some hot bondage in the privacy of our flat. This is a fine penis plug with glans ring and I'm very happy with it. So is my dom.
Review by: LC
Penis Plug w/Glans Ring
Most enjoyable, but it could be improved if (a) there was a choice of diameter for the glans ring, and (b) the plug was not so tightly held by the ring.
Review by: PM
Submit your review of the

Penis Plug With Glans-Ring
Reviews should be constructive, around 50 words long, should not contain swearing and must relate to an order (and the products within) placed with the submitted email address.
If these criteria are not met, your review will be rejected.
All reviews are moderated before publishing.
If you have a question regarding a product/order or regarding Customer Service please contact [email protected]