Browse By Category
Special Offers
Colours
Prices
Insertable Lengths
Genders
Materials / Feel
Features
Brand
Hollow 7 Inch Strap On Dildo - Male and Female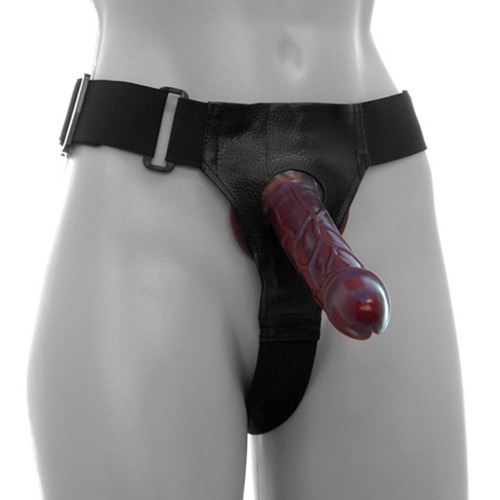 Recommended with this product
Description - Hollow 7 Inch Strap On Dildo - Male and Female
• This superb hollow strap-on dildo includes a perfectly formed and vein covered shaft providing you with a life-like stimulation and penetration experience
• Includes an adjustable harness for a firm, safe and comfortable fit
• A popular hollow strap-on dildo ideal for both male and female wearers to enjoy
Product specifications
| | |
| --- | --- |
| Ideal for | Male and Female |
| Harness Size | Fits up to 46" waist |
| Colour | Brown |
| Material | Solid Rubber |
| Insertable | 7" |
| Circumference | 5" |
| Flexible? | Firm and Flexible Hollow Shaft |
| Waterproof? | Yes |
| Free Lubricant Sample? | Yes |
Full description - Hollow 7 Inch Strap On Dildo - Male and Female
Strap-on dildo power on a belt - get ready for action. This super realistic 7" hollow strap-on dildo with its smooth veined shaft and perfectly shaped head will fill your bedroom life with pure passion and ecstasy.
Suitable for both male and female wearers due to the hollow dildo shaft.
This magnificent strap-on dildo comes complete with dildo, fully adjustable elasticated strap-on harness and a free lubricant sample.
This hollow strap-on dildo takes no batteries - it thrives purely from the rhythm of your hips!
Customer reviews for Hollow 7 Inch Strap On Dildo - Male and Female
Hollow Strap on
This hollow strap on was such a great buy we couldn't pass it up. She loves the vaginal and anal penetration, and I love the extra few inches and anal play. The dildo is comfortable and covered with veins for extra stimulation, and it sure works well. The harness fits us both and is very comfortable to wear. I can see why this dildo strap on is so popular. The price is right and it's a great sex toy.
Review by: Brian and Kaye
Hollow Strap On Dildo
My wife and I love sex toys, and we wanted to add a hollow strap on dildo to our collection. This one was a great price and it looked fab, so I couldn't resist. I surprised her with it for her birthday. It was a huge hit! The hollow dildo feels very good and it gives me a few extra inches. We can also go much longer with this strap on, and she wears it when I'm in the mood for some anal fun. It's a great strap on, comfortable, sturdy, and fun to use. Thank you Bondara!
Review by: Tom
G
Was the best ever used it with my boyfriend and my girlfriend!
Review by: Oliver Braun
Strap On Dildo
Donna and I love to play with our strap on hollow dildo. She likes the penetration that can last through her multiple orgasms, and I like the anal sex. It feels interesting to be entered from behind by a woman wearing a strap on dildo. Talk about sexy! The dildo is realistic, with veins, ribs, and a realistic well-formed head. It goes in 7 inches, which is fine for both of us. I haven't had this much fun with a sex toy in weeks. ;) The price was too good to pass up. I don't often see a sex toy like this one for such a great price. Plus shipping was fast and the box it came in was plain. No one could tell what was being mailed to us. I also bought some anal lubricant so we both could use this dildo strap on for anal sex. A few condoms with anal sex made clean-up easy. Just toss the condoms and wash the dildo in soapy water. This dildo is great fun to use in the tub. Being covered in bubbles while playing with a strap on dildo is unlike any other experience I've had. This dildo is solid rubber and brown, really great looking. I'm very happy with it, and so is Donna. We use it several times per week
Review by: Dusty and Donna
Submit your review of the

Hollow 7 Inch Strap On Dildo - Male and Female
Reviews should be constructive, around 50 words long, should not contain swearing and must relate to an order (and the products within) placed with the submitted email address.
If these criteria are not met, your review will be rejected.
All reviews are moderated before publishing.
If you have a question regarding a product/order or regarding Customer Service please contact [email protected]