Browse By Category
Special Offers
Colours
Prices
Genders
Features
Door Sex Swing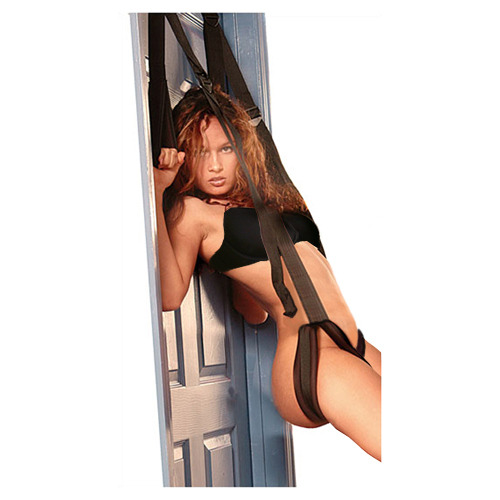 Recommended with this product
Description - Door Sex Swing
Strap your partner to the door and make them scream for more! This fabolous door swing is the answer for an extremely portable sex swing that can be used anywhere where there is a door. Total satisfaction guaranteed.
Product specifications
| | |
| --- | --- |
| Material | Strong Padded Nylon Straps |
| Colour | Black |
| Size | Fully Adjustable Straps - One Size Fits All Doors |
Full description - Door Sex Swing
This fabulous door sex swing is a total UK exclusive! Convert any door into a bondage playground with this massively popular soft restraint kit. Drop the strong tubes over the top of an open sturdy door, close the door and decide which one of you wants to be restrained. Allows you and your partner take your partner's weight for easy exploration of new and exciting sex positions. Each piece in this kit is made from top-quality padded material with reinforced stitching throughout. Don't settle for second best - this is he creme de la creme of door sex swings!

Using the Door Swing is Easy:
- Drape strong tubes over the top of the open door
- Close the door
- Lower leg straps so that your lover can slide their thighs through the lower loops while there back is against the door.
- After your lover's thighs are in, allow them to slide their arms through the upper loops, have them hold onto the handles for extra safety, while you adjust the straps to a comfortable height.
- Enjoy - And that we know you will!
Customer reviews for Door Sex Swing
Door Sex Swing
I wanted a bondage sex swing for traveling, since we go to conventions several times per year. This sex swing was a good price and portable. It fits perfectly over the bathroom door, and it wasn't too bulky. Just toss it in our luggage. The door can take the weight, and the sex swing is very sturdy and well-made. It's thickly cushioned and threaded well so that it doesn't fall apart. I like to slip my legs through the straps and spread my legs wide for him. The swing takes my weight, which feels really good. We use this sex swing at home, too, in the bedroom or living room on the doors. It's lots of fun and very sexy.
Review by: Shell
Submit your review of the

Door Sex Swing
Reviews should be constructive, around 50 words long, should not contain swearing and must relate to an order (and the products within) placed with the submitted email address.
If these criteria are not met, your review will be rejected.
All reviews are moderated before publishing.
If you have a question regarding a product/order or regarding Customer Service please contact [email protected]